This page contains links to newspaper articles and other print pieces about WKLO.
Read bits from old Billboard magazines about WKLO.
The Birth of WKLO-FM
Read what the Courier-Journal wrote about the impending sign-on of WKLO-FM in 1962.
Coca-Cola Hi-Fi Club Newspaper Ads
This 1975 Louisville Times article profiles WKLO morning man Big Bill Love.
Ken Douglas - Idol Of The Teens
Read a 1966 Louisville Times article about WKLO's popular mid-'60s English disc jockey, Ken Douglas here.

Louisville Scene DJ Dictionary
DJ Dictionary: Who's Who On The Radio is a scan of a Louisville Scene newspaper page from TV-Radio Critic Vince Staten that shows who was on the radio in the Derby City in February, 1979: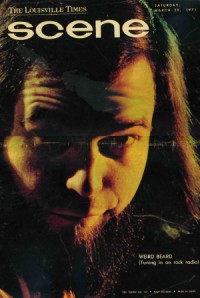 Rock Radio: Sweet Sound of Money
This March 1971 Louisville Scene feature provides a great snapshot of the state of early '70s Derby City Top 40 radio and how it influenced at least one Louisville MOR station.
It took more than Top 40 music and great DJs to make WKLO successful in the 1960s. Read about the award-winning WKLO news department in this 1967 Louisville Magazine article.
One of the longest on-going promotions WKLO was associated with was Toys for Tots. If you were in Louisville in the 1960s or '70s, you no doubt heard about one of WKLO's famous Toys for Tots concerts. You could attend a show featuring national recording acts with a new toy as the price of admission. Read two Courier-Journal articles about WKLO's 1965 and 1967 Toys for Tots shows here.
Other Articles of Interest
Louisville's Midnight Cowboys looks at some of the city's all-night jocks in April of 1970, including WKLO's Big Joe London.
Back From The Big Time profiles Lee Gray, Bill Bailey and Gary Burbank, three DJs who left Louisville for major markets but returned to the Derby City.